MEET GEERTJE ZAMLICH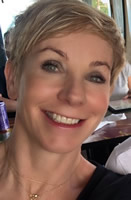 Born with a very strong intuition and a desire for knowledge, my life has always been about exploration of spirituality and service to my fellow human being. Initially educated in languages and international diplomacy, my work consisted of communication and bringing people together in professional and personal capacities.
In 1987 I entered the Center for Intuitive Education in Utrecht, The Netherlands, which led to immigration and continuing spiritual education in the United States.
Between 1990 and 2001, I completed training at the Berkeley Psychic Institute, the Church of Divine Man in Berkeley, California and the Aesclepion Healing Center in San Rafael, California, which, together with several workshops in One to One spirituality and Matrix Energetics, forms the basis of my practice.